Regular price
Sale price
$82.00 USD
Unit price
per
Sale
Sold out
Healthy Glow™ takes a multifunctional approach to slow down the rate at which we age. It's designed with restorative peptides, growth factors, and ceramides to rejuvenate cells and promote beauty at the cellular level. Healthy Glow™ encourages cellular repair and hydration, supports skin elasticity and collagen production, and diminishes the appearance of fine lines and wrinkles, giving the skin a youthful complexion and radiant glow.
Our formula contains three potent compounds that combat premature aging: Spermidine, C15, and Hyaluronic Acid. C15 is a revolutionary fatty acid whose benefits include helping you sleep deeper, snack less, and reverse aging at a cellular level. Spermidine mimics fasting and caloric restriction to induce autophagy, which limits inflammation and oxidative stress, the main culprits of aging and related diseases. Hyaluronic Acid promotes softer, healthier skin, which helps reduce the appearance of fine lines and wrinkles.
Healthy Glow may help with the following:
Activates pathways that mimic fasting
Actively slows the aging process and can increase longevity
Protects, repairs, hydrates, and smoothes skin on a cellular level
PRO-TIP: Take this alongside Cymbiotika's Liposomal Vitamin C to rejuvenate the skin and further enhance collagen production and cellular support.
Size: 42 capsules
Suggested use: Adults, take two (2) capsules, daily, with water, as a dietary supplement, or as a qualified healthcare practitioner.
*To be used as directed by your healthcare provider or physician.
Disclaimer: If you are pregnant, nursing a baby, or have a chronic medical condition, such as, diabetes, hypertension or heart disease, be sure to consult your doctor or pharmacist before purchasing or taking any supplement.
Vitamin A (as NutraAssure®‡ BioPure BioLipid®‡ Retinyl Palmitate RAE), Organic Vitamin D3 (as PhytoSure®-O.C. ®‡ PurePlantD3 Organic Vegan Cholecalciferol), Cymbiotika® Multi Formed Emulsion Suspension Matrix with Radiant Healthy Glow™‡‡ (Proprietary), Japanese Purple Rice Essence Oil, Himalayan Sea Buckthorn Oil & Haematococcus pluvialis (fresh water algae) Oil (as PhytoSure®‡ BioPure BioLipid®‡ Multi-Formed Emulsion Suspension Matrix), Cymbiotika® Radiant Healthy Glow™‡‡, Providing: Hyaluronic Acid (as NutraAssure®‡ BioPure BioLipid®‡ Sodium Hyaluronate), Tetra-Peptide Glutathione-Cysteine-Proline-Glycine (as NutraAssure®‡ Fermented TetraFermetide®‡ Matrix), C15
Odd-Chain Fatty Acid (as NutraAssure®‡ BioPure BioLipid®‡ Pentadecylic Acid), All-trans Pterostilbene + All-Trans Resveratrol 1:1 (as PhytoSure®‡ Co-Complexed Ultra-Micronized Stilbenoid Matrix), Spermidine (as PhytoSure®‡ Polyamines, Total)
Other Ingredients: Liqui-PurePlantCap®‡ (Adapted Functional Plant Cellulose Capsule), Cymbiotika® Radiant Healthy Glow™‡‡ (Adapted Cassava Root Starch, Phospholipids, Clary Sage Conc. Ext, Sugar Cane Frac. Conc. Ext., Lavender Flower Extract Aromatics, Butterfly Pea Flower Conc. Ext., Mica, Spirulina), Cold-Pressed Purple Carrot Juice Frac. Conc Ext., Schisandra Berry Conc. Ext.
* The FDA only evaluates foods and drugs, not supplements like these products. These products are not intended to diagnose, prevent, treat, or cure any disease.
Share
View full details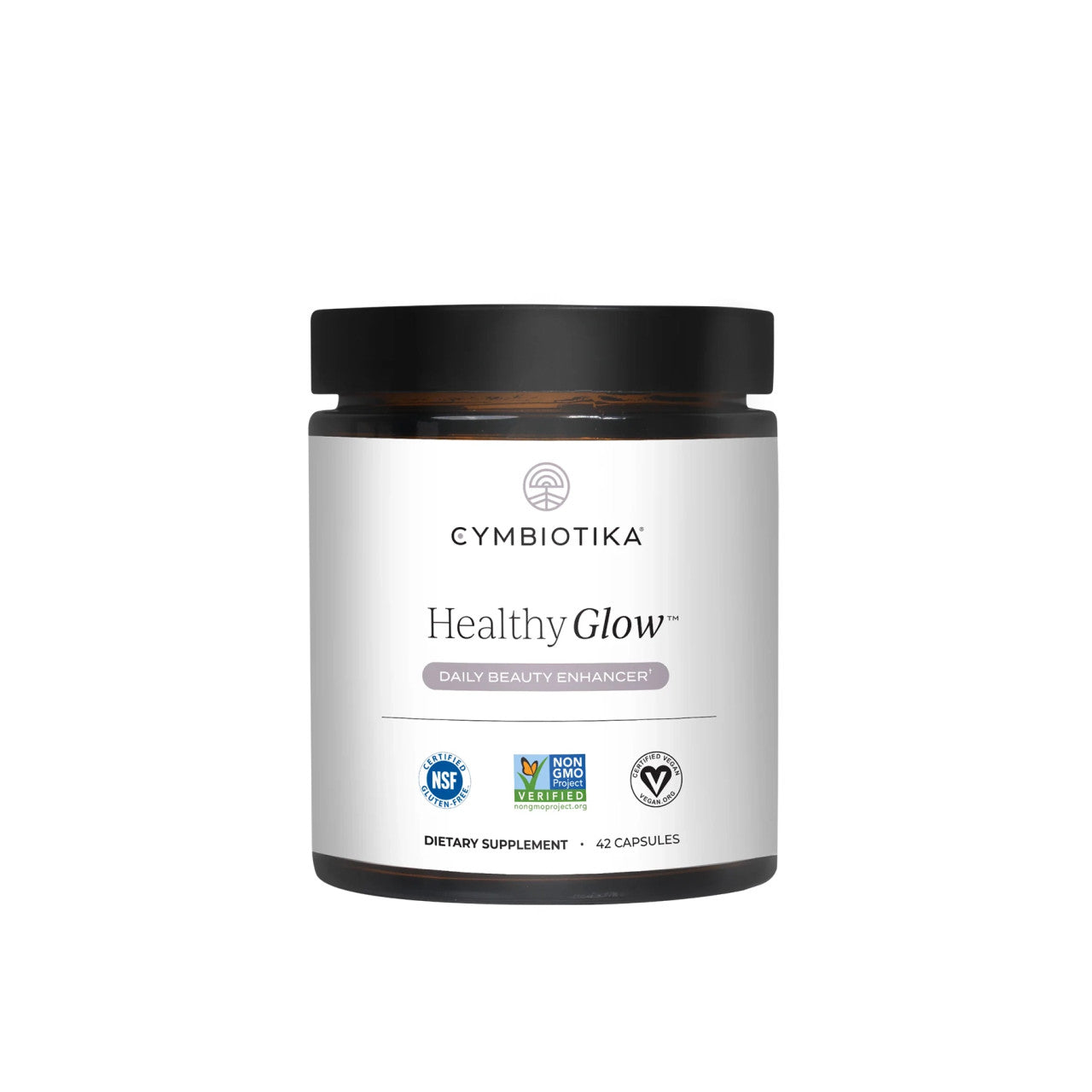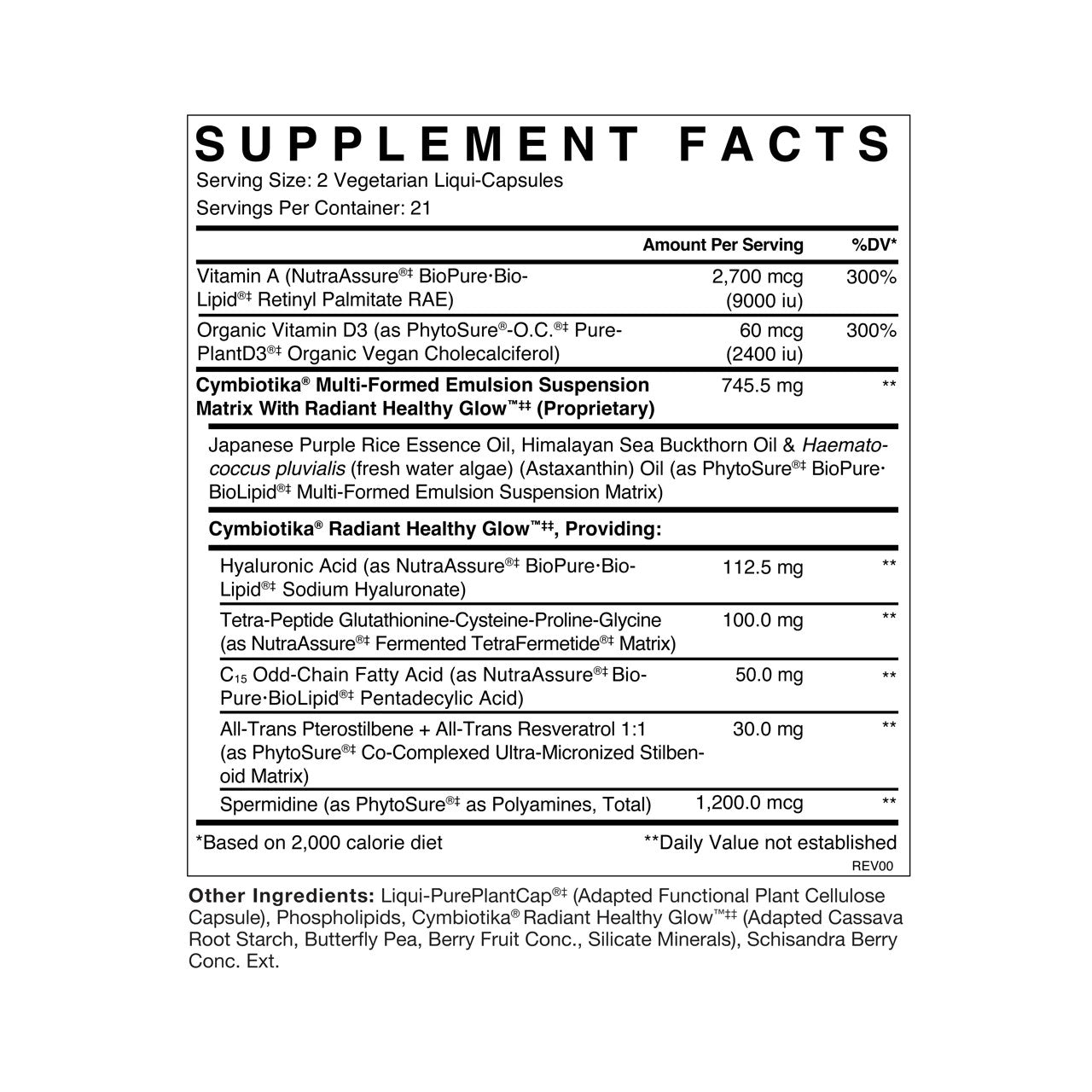 ALWAYS FREE SHIPPING AND FREE SAMPLES
OUR PROMISE TO YOU
EFFICACIOUS INGREDIENTS

At Freeze Co Beauty, we care about the ingredients in the products we love. We ensure every item has effective, ethically sourced ingredients.

QUALITY PRODUCTS

Our specially curated brands consist of medical grade skincare and clean beauty products that address skin conditions such as acne, aging and discoloration.

EXTENSIVELY TESTED

We are an authorized retailer of every brand on our website. Rest assured we only carry brands that have been extensively tested and are proven to work. Our products are 100% authentic (and fresh!) from the manufacturer.
Complimentary Domestic Shipping

Complimentary Samples Always Included

Easy Exchanges & Returns

Pay in Four, Interest-Free Payments