Regular price
Sale price
$65.00 USD
Unit price
per
Sale
Sold out
Support overall healthy, youthful function from within.
Collagen Recovery Complex is a complete and multifunctional collagen-building formula containing essential nutrients that provide the building blocks for collagen.

Collagen is the most abundant protein in the human body. It provides the body with structure and functions as the important scaffolding beneath the skin, providing it with firmness and youthful plumpness. Because the vast majority of the body's protein is collagen, understanding what it is and how to maintain its integrity is critical for keeping the skin and body healthy and vital.  The aging process is largely marked by accelerated breakdown and sluggish repair of connective tissue. 
Just eating collagen supplements alone doesn't directly result in a boost in collagen. Collagen Recovery Complex contains various types of collagen, along with Vitamin C, minerals, Hyaluronic Acid and amino acids to effectively boost collagen production. This holistic supplement is ideal for connective tissue building throughout the body, strengthening bone and blood vessels, post-surgical recovery and helping prevent the likelihood of hernia and prolapses.
Features & Benefits:
Helps reduce the appearance of wrinkles and fine lines
Helps plump and thicken the skin Improves the appearance of crepy, thinning skin
Helps restore skin's youthful texture and vitality
Improves circulation and blood flow to the skin
Helps speed healing of burns, cuts, scrapes, bruising and cystic acne scars
Speeds Post-surgical recovery Improves bone strength Strengthens blood vessels
Speeds post-surgical healing and reduces the likelihood of hernia and prolapses 
Take 3 capsules per day. May take with meals or on an empty stomach.
Collagen Peptides: building blocks shown to help skin elasticity, reduce wrinkles and improve the appearance of cellulite
Zinc: essential mineral important for collagen synthesis and repair
Copper: an essential mineral that acts as a cofactor for collagen synthesis. 

Manganese: essential trace nutrient required for the activation of collagen-producing enzymes
Glucosamine Sulfate: building block of connective tissue, improves the formation of connective tissue microfibers, upregulates collagen synthesis, source of sulfur for collagen building and strengthening
Collagen Type 2: helps promote younger looking skin appearance, shown to reduce wrinkles and fine lines and scaling, improves skin hydration and increase skin levels of hyaluronic acid, providing more hydrated, and supple skin.
MSM: improves collagen strength, resilience, and synthesis. Anti-inflammatory benefits support collagen production

Egg Shell Membrane: is a source of natural collagen building molecule essential for building healthy connective tissue, reduces free radical stress and stimulates secretion of collagen matrix components

Hyaluronic Acid: improves connective tissue hydration and support collagen elasticity and synthesis, proven skin anti-aging benefits, shown to improve skin wrinkling and overall skin condition

BCAAs: stimulate protein synthesis, enhance dermal collagen production
Glycine: collagen building block provides raw material for improving collagen synthesis

Proline: collagen raw material form collagen and connective tissue, repairing skin damage and wounds

Boron: facilitates the activity of collagen building enzymes, improves connective tissue matrix turnover assuring a constant supply of fresh youthful collagen
Vitamin C: is rate limiting raw material for collagen production, improves tissue hydration and collagen synthesis for the reduction in fine lines, wrinkles and improved dermal thickness, hydration and wound healing

Share
View full details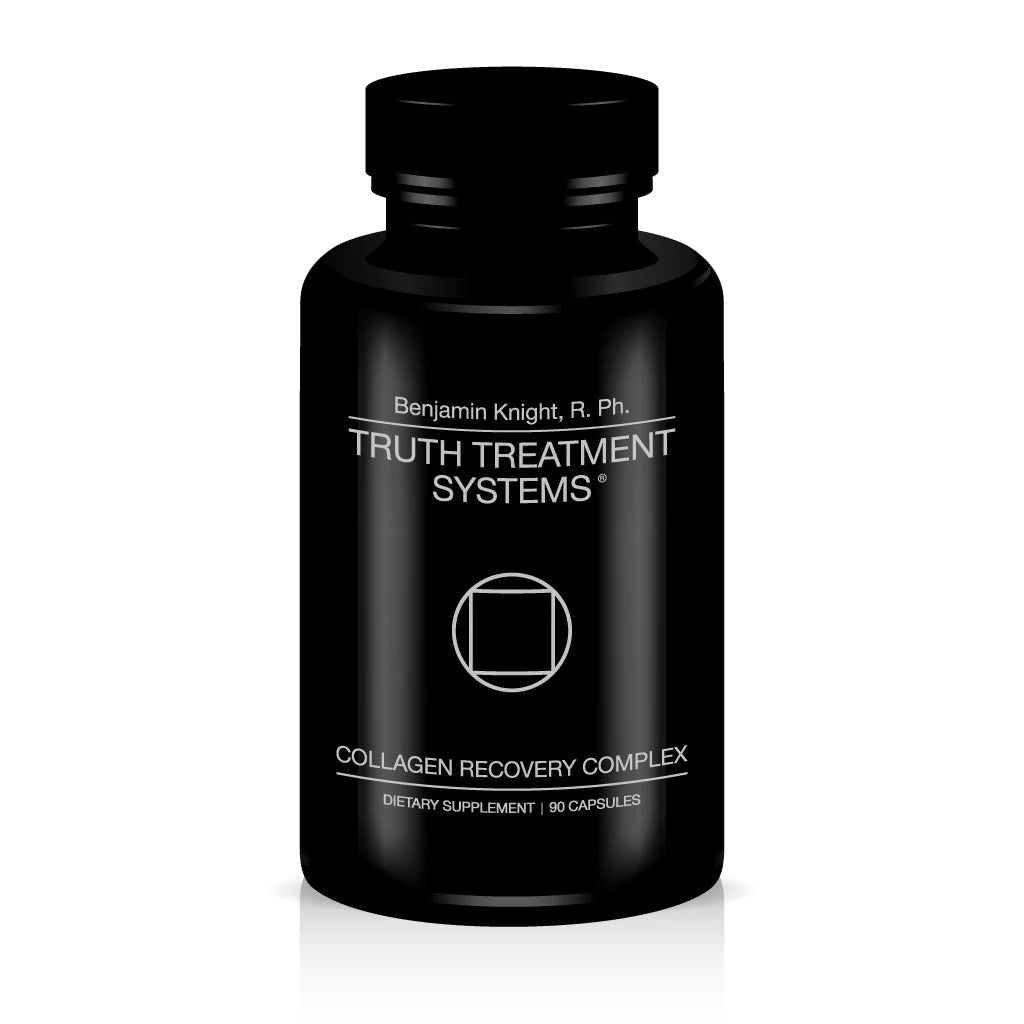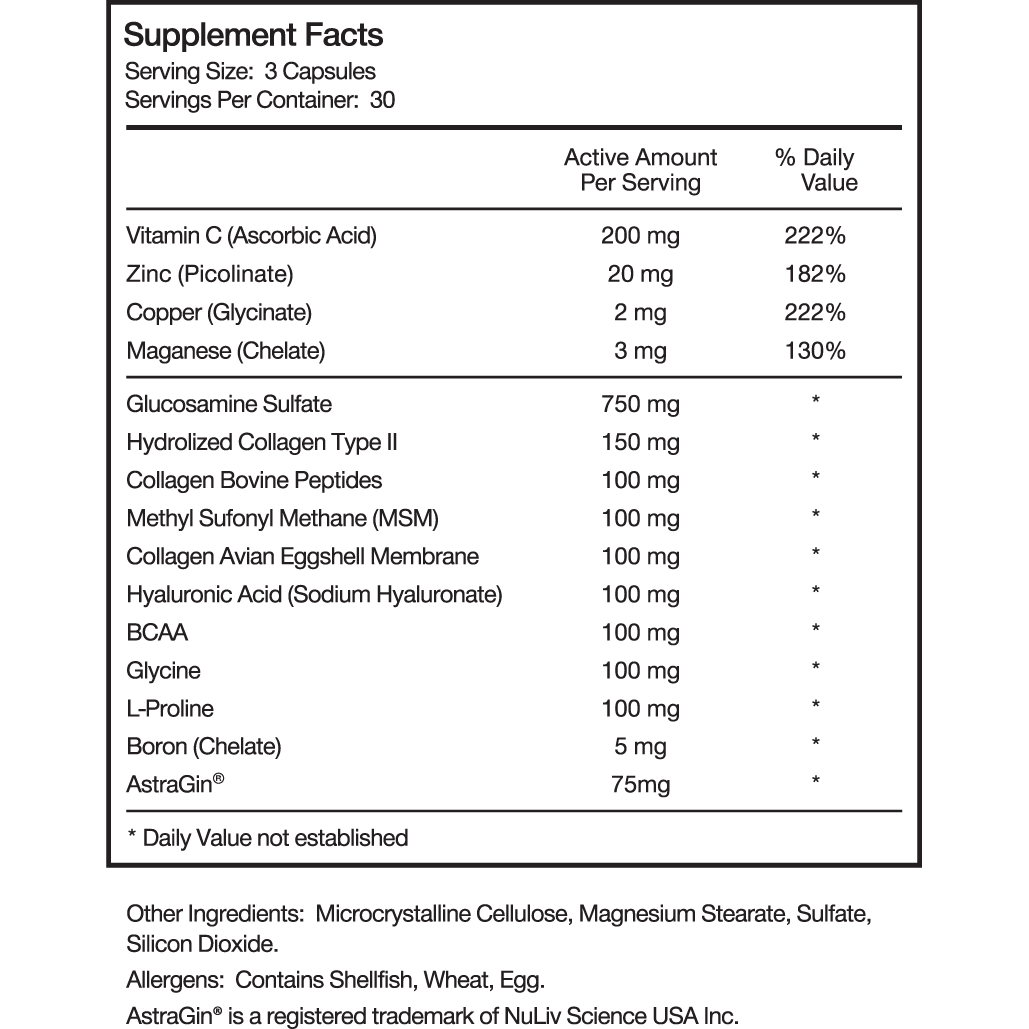 A boost from within
So far I am loving the capsules. I will continue using because my skin seems plumper and more radiant.
Best supplement!
You know this supplement makes a difference when you stop taking it. You will see a difference in the growth of your hair and nails right away when you start taking it again. My hair suffered severe hormonal changes about a year ago. I reintroduced this collagen supplement back into my diet at the start of this year and it has grown so much. I think I prefer this one over the Blemish Repair Complex (if you could only take one).
will keep repurchasing
I have taken TT collagen supplements for a few years and see firmer skin. I also put collagen powder in a daily smoothy, so I take 2 TT capsules every day, instead of the recommended 3 daily.
Truth treatments collagen recovery complex
Truth treatments collagen recovery complex has been one of my go to supplements since Christina started carrying TT.
Hair, skin and nails are amazing with Ben's supplements. I take three every evening.
ALWAYS FREE SHIPPING AND FREE SAMPLES
OUR PROMISE TO YOU
EFFICACIOUS INGREDIENTS

At Freeze Co Beauty, we care about the ingredients in the products we love. We ensure every item has effective, ethically sourced ingredients.

QUALITY PRODUCTS

Our specially curated brands consist of medical grade skincare and clean beauty products that address skin conditions such as acne, aging and discoloration.

EXTENSIVELY TESTED

We are an authorized retailer of every brand on our website. Rest assured we only carry brands that have been extensively tested and are proven to work. Our products are 100% authentic (and fresh!) from the manufacturer.
Complimentary Domestic Shipping

Complimentary Samples Always Included

Easy Exchanges & Returns

Pay in Four, Interest-Free Payments